Ich mache hier mal ein wenig Werbung für
ANDERSON DAILY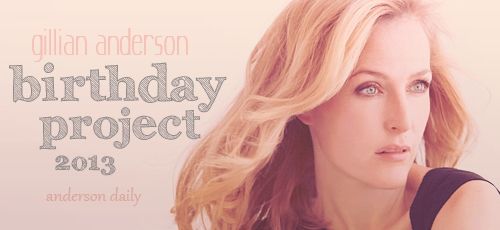 Gillian Anderson's Birthday is coming up on August 9th and here, on Anderson Daily, we want to celebrate it with YOU!
We want to put together another video gathering as much fans as we can! Even more than last year's video, if we can; so if you didn't participate on our previous video, this is your chance!!
If you want to be part of it send us a photo of you holding a card/piece of paper with or without your hand writing saying "Happy Birthday Gillian!" or whatever little greeting you want. It's up to you… be creative!
Please add your name and your country when you send us your photo (send this as aditional info, do not add it to your picture. Please also, don't edit the picture by any means), because we want Gillian to know this is a global project!
Our DEADLINE is July 20th.. so you can start sending your photos to adbirthdayproject[@]gmail[.]com, you can also contact us for further information via our askbox here on Tumblr.
IMPORTANT NOTE: We would like to surprise her again, so please do not mention this on her official website or via Twitter or to anyone related to her in any way, that would mean so much not only to us but to everyone who will participate in this project… once again, spread the word and we will be waiting for your photos!
The Anderson Daily Staff
[IMG]http://i218.photobucket.com/albums/cc205/SmallPotato28/Seeker/bannerconfessedphileXXX.jpg[/IMG] [url=http://x-philanthropy.jimdo.com] X-Philanthropy [/url]